An Invitation to a New Perspective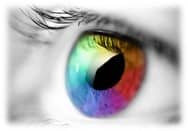 We can only live correctly to the degree we can perceive correctly. The word "repentance," at its core means to change our perspective.
We believe that true discipleship is not teaching you what we know, but teaching you how to personally connect with the living God. He alone is qualified to teach each of us, as uniquely created individuals and He will do it in a "language" that matches our understanding. So on the GAP Crosser journey, the Holy Spirit reveals Jesus to us, who in turn enables us to understand the true nature of the God the Father.
"But the anointing which ye have received of him abideth in you, and ye need not that any man teach you: but as the same anointing teacheth you of all things, and is truth, and is no lie, and even as it hath taught you, ye shall abide in him." – 1 John 2:27 KJV
 "The light of the body is the eye: if therefore thine eye be single, thy whole body shall be full of light. But if thine eye be evil, thy whole body shall be full of darkness. If therefore the light that is in thee be darkness, how great is that darkness!" Matthew 6:22-23 KJV
This is a journey into:
Your understanding of Who God is.
Your relationship with God.
Your understanding of unconditional love and your ability to walk in it.
It is also a journey into how God views:
Who you are:
Your value
Your ability to live securely without fear
Your significance
Your purpose
Your potential
The world (worldview)
It is a journey toward realizing and manifesting the best version of yourself to make an extraordinary contribution to the world!
This is a revelation of the person of Jesus Christ and a journey into His Father's Love! It's a transition into a better operating system called the Kingdom of God.
 Our default operating system is fear-based.  It is failing.
 "…Yet once more I shake not the earth only, but also heaven. And this word, Yet once more, signifieth the removing of those things that are shaken, as of things that are made, that those things which cannot be shaken may remain. Wherefore we receiving a kingdom which cannot be moved…" Hebrews 12:26-28 KJV
God's Kingdom draws self-worth, security and significance from the Father's unconditional love rather than from the temporal things of the world's fear-based system. This is a transition…
Out of…

Into…

Guilt and debt under the law – Fear-driven performance
Being driven
Restless striving – Us for God
Being "not enough"
Word of man
Through a glass dimly
What's possible through human ability
Following the works/acts of God – Living through the Christ in others
Flesh
Slave
Death
Self-righteousness
Human judgment
Fear
Our name
Our reputation
Human wisdom
5 Senses & human understanding
Spiritual darkness
Human ability

Forgiveness by grace – Owe no man anything but to love
Being led
Peace – God through us
Being finished, whole and complete in Christ
Word of God
Face to face
What's possible through Christ
Knowing the ways of God – Being the conveyor, interpreter, and translator of God to others – Intercession
Spirit
Son (Daughter)
Life
Christ-righteousness
Judgment of God – Justice
Faith through Love
His Name
His reputation
His wisdom
The understanding of God
Spiritual light
Authority and power of Christ
Out of the darkness, into Light…
 "But ye are a chosen generation, a royal priesthood, an holy nation, a peculiar people; that ye should shew forth the praises of him who hath called you out of darkness into his marvelous light:" – KJV 
 Pattern interruption is necessary!
Important life secret… LEGITIMATE authority is always by invitation.
 GAP Crossers facilitate transformation by causing pattern interruptions that create an environment of invitation into life-transforming encounters.